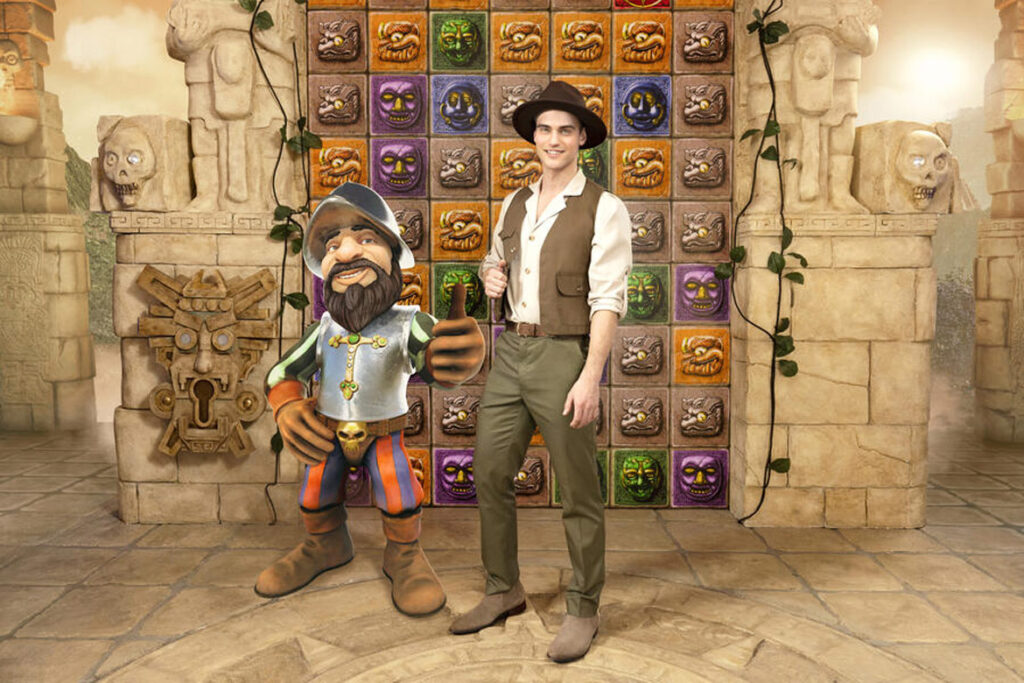 About the game
For over a decade, slot fans enjoyed the thrilling adventures of Gonzo – the Spanish conquistador who made his first expedition to El Dorado (the Lost City of Gold) in March 2010 in NetEnt's very popular release Gonzo's Quest. Since then, Red Tiger decided to add a second adventure by producing Gonzo's Quest Megaways. On March 23, 2021, Evolution released a teaser video of a brand new chapter from Gonzo's latest journey: Gonzo's Treasure Hunt Live. Apparently, the Swedish live developer was also planning to get involved in Gonzo's adventures which might sound a bit funny to some as many players were wondering what a live dealer developer was doing with a slots game character? Well, let's say you'll find out in our Gonzo's Treasure Hunt Live as this is what makes this remarkable launch different from all other games you've seen before. Gonzo's Treasure Hunt is a unique collaboration between two leading game developers: NetEnt and Evolution. This is where live dealers meet slot games. Category: Evolution is trying to conquer the world as well.
Where to play it
Our online casino recommends some of the best live dealer casinos you'll find in Canada and all of them offer live dealer games. The casino options you'll find in our listings offer a wide range of casino games including Gonzo's Treasure Hunt Live. All of these websites are secure, fully trustworthy, licenced, and give you the best bonus deals:
The rules
Get ready for smooth animations, breathtaking graphics, and exciting features where Gonzo meets a live dealer world. The game even integrates Augmented Reality (AR), which makes everything look even more realistic than ever before. The game takes place in an Inca temple with Gonzo and a live dealer sitting on opposite sides of the action. Players at Gonzo's Treasure Hunt will enjoy a unique adventure, as you can decide for yourself how many stones you want to bet on and how many chances you'll need to make a hit.
Easy, but a whole lot of fun
Gonzo's Treasure Hunt's gameplay is very simple and reminds us of Minesweeper, so if you've played this classic yourself as well, you'll probably get the idea of Gonzo's Treasure Hunt Live pretty quickly. The goal of Gonzo's Treasure Hunt is to predict where the stones will be hidden on the game's 10×7 grid. Gonzo unlocks an exciting Prize Drops feature from time to time, which will significantly increase the payouts of a number of randomly selected stones. Players who enjoyed the original Gonzo's Quest will have an unforgettable time with Gonzo's Treasure Hunt, we're sure about this. This new live dealer version feels familiar, but still manages to give it a new twist.
How to win
Gonzo's Treasure Hunt Live is a live version of NetEnt's Gonzo's Quest which means you'll need to be familiar with how slots work on the one hand and how a live dealer casino works on the other. Let's give you some useful tips and tricks to make a win as well.
1. Claim your bonus
The first step is to lower your risk from the very first moment you launch the game. Canadian live dealer enthusiasts love casino promos and we're here to help them claim what they're entitled to. One of the challenges in finding a proper casino bonus is two find a promo that is valid for live dealer casinos. Our casino pros have made sure to pick the best bonuses that can be used for live dealer games like Gonzo's Treasure Hunt Live. The whole idea of increasing your chances of winning is to lower your risk and bonuses will help you do so.
2. Make a bet
Once you've claimed your bonus it's time to get ready to place your bets. You can choose one to 20 stones and the minimum bet is a minimum of $0,10 while the maximum stands at $1000. Before you make your first bet we recommend you to set a predefined budget.
3. Check out the Prize Drops
After that, the game first starts with the Prize Drops. Zero to seven additional multipliers will appear at the top of the screen and then drop to the bottom. Some boxes on the tile wall receive an extreme multiplier, so make sure to pay attention when this happens.
4. Wait for the last boxes
Time to pay even more attention as this is when the boxes will be opened. The first boxes to open usually contain the lowest cash prizes and the very last box has a multiplier of 65x the stake. The longer your box remains closed, the more money you win.
5. Withdraw what's yours
If you're fully satisfied with your wins you should consider requesting a payout if this meets your profit target. Make sure to set a target before you start playing in order to stick to a certain strategy. Setting profits targets should be all part of money management and the most experienced players will know when to withdraw. Make sure to stop playing if you reach either your profit target or your maximum loss you have determined in your game plan.
How to play
It's not a difficult game to play but there are some things we need to point out here. Your goal is to find the hidden treasures on the stone wall which can give you a maximum win of 20,000x the stake. Gonzo's Treasure Hunt Live is a jungle themed game which is both adventurous and mysterious, to say the very least. The game features a special wall with 70 pockets and there are 6 types of prizes hidden under the boxes. The lowest prize doubles your stake, while multipliers go up to 65x. You can decide for yourself which stones you'll use to play with. You have to choose at least one stone, but you can also bet on 20 picks on the wall. When it's time to join the quest, you'll first need to decide which of the 6 different stones will be hidden. You'll encounter 6 values: 1x, 2x, 4x, 8x, 20 and 65x. Players can also use the "Bet on All" button to directly select all stones, but you should always bear in mind that there are a lot less stones with a high value than, for example, the 1x or 2x.
Choose your stones and place your bet
After choosing the stones, it is up to the players to select 1 to 20 "Picks", which is the number of times you can reveal one of the 70 stones from the wall. This means that the more picks you select, the greater the chance that you will find the stones you are looking for. However, you'll need to pay a certain price for this. Your total bet at Gonzo's Treasure Hunt is the total value of the different bets you place times the number of Picks.
To illustrate this
Let's say you place $1 on the 8x stone and $2 on the 4x stone and then decide to play 4 Picks, you have to wager ($1 + $2) x 4 = $12. Each player will therefore embark on a different adventure – which depends on your choices. As soon as all players have made their bet and the betting period has ended, the round will start. All the stones on the wall will now be shuffled and covered, so players don't know where their chosen stones are on the screen. Next, a countdown timer will start showing how much time players have left. The number of your picks will remain displayed with open palm icons and can be found in the user interface.
Fingers crossed for Gonzo's helping hand
All of this may sound a bit challenging, but Playing Gonzo's Treasure Hunt is actually very simple, you'll just need to click on certain stones from the 10×7 grid until you run out of Picks. However, as with any journey of exploration, you'll also encounter some unexpected twists. Gonzo will give you a hand from time to time by turning the key, which triggers the "Prize Drops" and adds an extra multiplier to a few stones. At the end of each round, all values ​​of the wall will be revealed and you can see if you win a prize. Bear in mind that you will only make a win if you've made a bet on one of the winning stones. Furthermore, this payout will of course be considerably higher if you win a Bonus Prize via the Prize Drops.
The features
What's striking about Gonzo's Treasure Hunt is it's presentation, which is completely different from any other live game you've come across so far, we're sure of that. Evolution has exchanged the stylish live casino studio environment for one that welcomes computer-generated graphics and Augmented Reality, which creates a truly unique setting. The game takes place in an ancient Inca temple and with a live dealer dressed in an Indiana Jones outfit all you'll need to hope for is that the Prize Drops get triggered. At the bottom of the screen you'll find the different chips that you can bet with, as well as a number of options to remove or repeat previously chosen chips. The pay chart can be found in the bottom right corner, where you'll find all other settings as well. Gonzo's Treasure Hunt is fully streamed in HD and gives players a live chat feature. That is: with the dealer, not with Gonzo himself.
RTP
Gonzo's Treasure Hunt – just like the original Gonzo's Quest slot machine – offers a very wide range of bet sizes, making the game accessible to every type of player. In this game players can choose to make a bet with anywhere from $0,50, $1, $5, $10, $25, $100, $500 and $5000 which is a very broad range if you ask us. The Return to Player (RTP) percentage of Gonzo's Treasure Hunt is set at 96,56% which is quite okay if you compare it with slot games, but a bit low if you put it next to most other live games by Evolution. In terms of payouts, in the standard game you can win prizes of 1x, 2x, 4x, 8x, 20x and 65x your stake.
Live dealer meets RNG
Gonzo will also use a key from time to time to activate Prize Drops, which can skyrocket your payouts. During the Prize Drops, extra multipliers will invade the playing field, landing on random stones. These extra multipliers brought to you via the Prize Drops have a value from 2x up to 100x. Where Gonzo's Treasure Hunt can become really lucrative are the Re-Drops, as they allow the Prize Drop to land again on a stone that already had a bonus prize. In total, a maximum of 10 Re-Drops are possible per round and the multiplier for an individual stone can therefore rise to no less than 20,000x. Finally, it's important to mention that Gonzo's Treasure Hunt uses an RNG as well: the live presentation is done by a dealer, but some of the outcomes are triggered by the RNG.