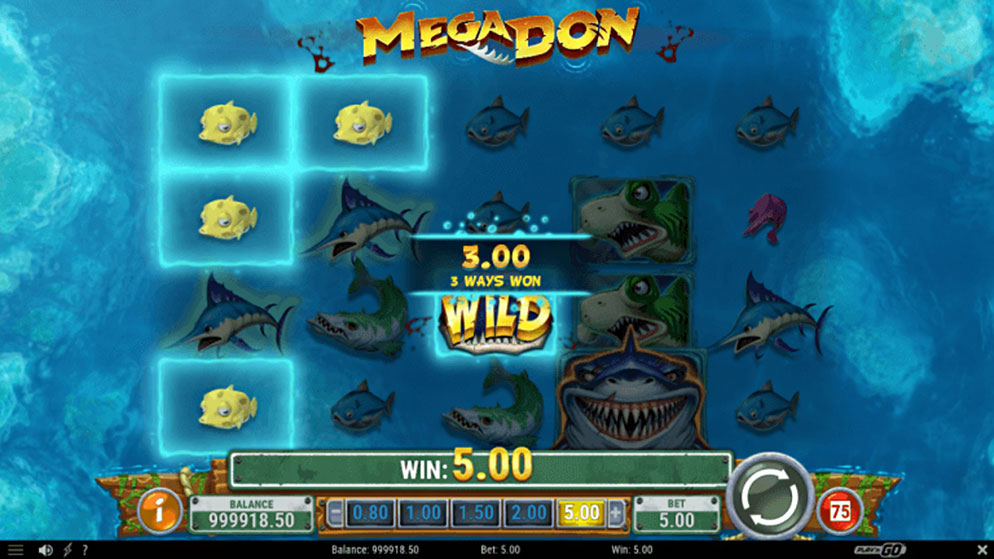 We can't really blame people that they're afraid of sharks as we're part of the group. After all, they are huge and you won't see a lot of animals with teeth as sharp and big as sharks. Yet, humans are the ones killing the sharks instead of the other way around. Play'n Go's Mega Don is about the extinct Megalodon, the undisputed ruler of the prehistoric oceans and widely seen as the precursor of the shark. This slot by Play'n Go pays tribute to the shark that dominated the temperate seas of the world with virtually no enemies; the Megalodon could reach a length of 59 feet and open its mouth up to two meters. And with a mouth that big there are lots of prizes to collect once you dive into the deep blue.
Play Mega Don
What is Mega Don?
Like with other games about sharks, users are taken to the animals' habitat, deep in the ocean where nobody can come to the rescue. Luckily, this Megalodon and the other sharks in the game can be very friendly so make sure to treat them well. The rest of the game is a bird of another feather, or rather a different kettle of fish. The slot's background is somewhat plain if you ask us, but the audio is a lot more emotional, ranging from a deep ocean ambient to Jaws level of tension once the action picks up.
This Play'n Go launch is a slot game with 5 reels, 4 rows and up to 1,024 betways. Winning combinations are awarded for landing 3 or more consecutive symbols on adjacent reels starting from the left side. Take spins from as low as C$0.10 to C$100 which we believe is a rather flexible betting range. Mega Don comes with a medium variance and a standard 96.20% RTP. Alternative RTP's will be found at some online casinos at 94.20%, 91.20%, 87.20%, and 84.20%. Check the game's RTP status by clicking on the info button. It is recommended to do that before you make a real money bet at your favourite casino.
The deep blue gives players the perfect setting to find sharks emerging from the deep, but you might want to keep your distance at first. Once the dramatic music and bloody waters hit you will encounter all sorts of features in an ocean themed game which means that the shark-species get all the space to eat the low and mid-paying characters like shrimp, minnow, pufferfish, and barracuda.
These fishy pay symbols award from 0.4x to 0.6x your stake for five of a kind which holds for shrimps, minnows, pufferfish and boxfish.
Marlins and barracudas pay you up to 1x your bet for 5 matching symbols.
The leopard shark, hammerhead shark, and the Mega Don are at the top of the food chain, leading to wins of 2x to 4x for five of a kind.
The wild symbol is easily recognised by the set of shark teeth substituting all others except the bonus scatter. The yellow beach shark warning sign activates free spins for combinations of three or more anywhere on the reels.
Key Highlights
Mega Don's main attributes are conveniently listed below. These include the game's most important specifications. Mega Don is a fully responsive slot which is why you can play it on any device, whether it's a laptop, desktop or mobile device. The demo version of the game is recommended if you want to get familiar with the rules without needing to play with real money.
Specifications
Developer: Play'n Go
Game type – Video Slot
Theme: Ocean, Sharks
Reel: 5
Row: 4
Paylines: 1024
RTP – 96.20%
Volatility: Medium
Bet range– C$0.10 – C$100
Maximum winning– 10,000x
Bonus feature: Yes (8)
Free spin: Yes
Multiplier: No
Compatibility– Desktop and mobile
Features
Realistisch Jaws-style audiovisual experience
Win up to 10,000x your bet
Random Snack Time symbol upgrade feature
Free Spins that upgrade fish symbols per spin
How To Play Mega Don?
The first prey you should lookout for can easily be found once you trigger Snack Time which can happen at any moment during Mega Don's base game. Once you make it to Snack Time, 1 to 3 low value fish will be chosen for an upgrade. Next, all the fish of this type that show on the screen will be turned into symbols of one of the three premium sharks. The features you will need to to pay some extra attention to:
Shark Feast: this feature is triggered when 3, 4 or 5 scatter symbols land on your screen. The number of scatter symbols affects the number of free spins and how many fish symbols need to be chosen for an upgrade. This can lead up to:
One symbol: 6 spins.
Two symbols: 9 spins.
Three symbols: 12 spins.
If you manage to land 3, 4 or 5 more scatters during the free spins, you will get:
3 spins + 1 upgrade symbol.
6 spins + 2 upgrade symbols.
9 spins + 3 upgrade symbols.
Strategies for playing Mega Don
We can't stress enough at Vernons that slot games are games of chance that work with random results. In order to get the most out of your gaming experience you should be able to be aware of the importance of responsible gaming which virtually sums up to:
Demo Mode Play
The Demo Play Mode allows you to play the game in a free mode without needing to wager your money. You will still be able to enjoy all the features of the game and making use of the demo mode is an effective way to get familiar with the slot. We only recommend you switch from the demo mode to the paid mode once you know how the game works.
Proper Bankroll Management
For long term success, proper bankroll management is crucial as one should consider online gambling as a combination of entertainment and a potentially lucrative financial investment. Thus, consider every real money bet as a potential way to make a Return on Investment if you play calmly and set aside your wins on time. Ideally, you should start with both a predefined budget for a maximum win and a maximum loss.
Knowing When to Stop
Knowing when to stop is easy to decide if you set predefined goals. Make sure to stick to these as knowing when to stop makes the difference between a win and a loss. Other than financial goals you can also think of setting time constraints such as a maximum session limit. Most casinos we recommend offer their players the option to set these limits in their accounts.
Betting Options And Payouts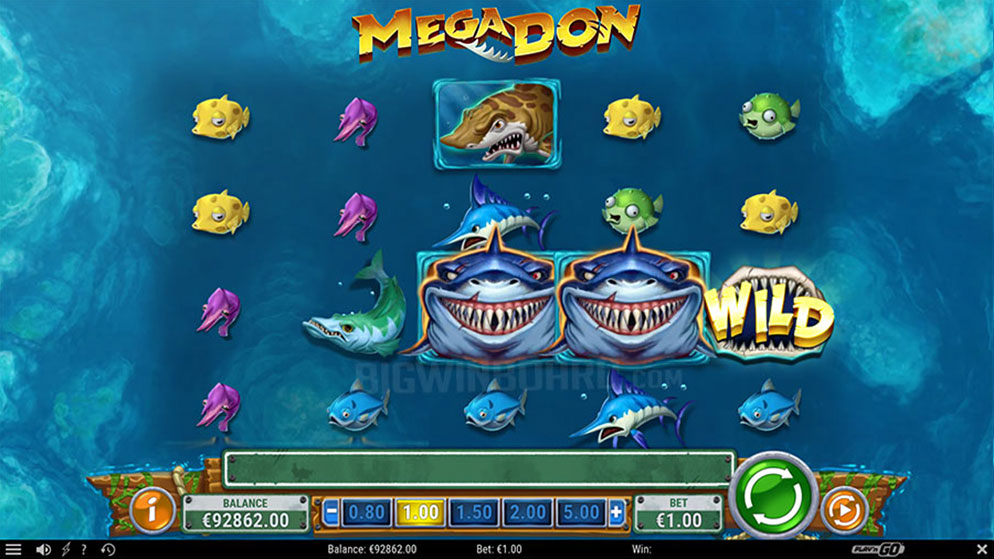 Mega Don's payouts are based on the eaters and the eaten. For low value symbols, users have six small fish ranging in values from 0.4 to 1x the bet for five of a kind, while three high pay sharks worth between 2 and 4x for five of a kind combinations. The jaw patterned wild symbol is meant to help players out in all kinds of scenarios, substituting all symbols except scatters. Below we have conveniently listed the payouts for the different combos:
| Lines | Mega Don | Hammerhead Shark | Leopard Shark | Barracuda | Marlin | Boxfish | Pufferfish | Minnow | Shrimp |
| --- | --- | --- | --- | --- | --- | --- | --- | --- | --- |
| 2 | 0.5 x stake | N/A | N/A | N/A | N/A | N/A | N/A | N/A | N/A |
| 3 | 1 x stake | 0.7x stake | 0.5x stake | 0.4x stake | 0.4x stake | 0.2x stake | 0.2x stake | 0.1x stake | 0.1x stake |
| 4 | 2 x stake | 1.5x stake | 1x stake | 0.6x stake | 0.6x stake | 0.4x stake | 0.4x stake | 0.2x stake | 0.2x stake |
| 5 | 4 x stake | 2.5x stake | 2x stake | 1x stake | 1x stake | 0.6x stake | 0.6x stake | 0.4x stake | 0.4x stake |
The fishy pay symbols award from 0.4x to 0.6x the stake for 5 of a kind which holds for a shrimp, a minnow, a pufferfish and a boxfish. Mid range symbols are marlins and barracudas that will pay you 1x your bet for 5 matching symbols. A leopard shark, hammerhead shark, and the Mega Don can be found at the top of the food chain, awarding between 2x and 4x for 5 of a kind wins.
The standard RTP in the game is set at 96.20%. Do note that the RTP can change depending on the preferred online casino. We would label the volatility of the game somewhere between medium and high, but slightly towards the medium range.
Extra Features
Symbol transformations play a major role in both of Mega Don's features which you'll come across in both the base game and the free spins round. The features giving you the highest wins in Mega Don are:
Snack Time
In Mega Don's base game, up to three random low pay fish symbols need to be selected to be upgraded in the Snack Time feature. If the chosen fishy symbol lands on the reels, they are transformed into a premium shark symbol.
Shark Feast
Scatter symbols appear on all reels, and depending on how many of them you land to trigger free spins you get a different scenario:
3 scatter symbols award 6 free spins with 1 upgrading symbol.
4 scatters symbols award 9 free spins with 2 upgrading symbols.
5 scatters symbols award 12 free spins with 3 upgrading symbols.
If the upgrading symbol appears on the reels during the free spins round, they are transformed into random shark symbols like in the Snack Time feature. The selected upgrading symbol remains this way until the free spins round ends.
Another thing to look out for in Mega Don are the retriggers. If during the bonus round 3, 4, or 5 scatter symbols hit, then players will win:
+3 free spins with 1 upgrading symbol.
+6 free spins with 2 upgrading symbols.
+9 free spins with 3 upgrading symbols.
As a result, it is possible to have six low-value, yet transformable symbols. If you've got at least one upgrading symbol, they can all turn into the same shark symbol.
Final Verdict
Mega Don is a Play'n Go production that gives us scary sharks with big teeth, and a thrilling soundtrack that would've served in any of the Jaws films. We are very excited to see the shadow of the sharks circling underneath the screen right before they actually attack. The audiovisual experience is so realistic that it won't be a good idea to play this slot if you're planning to jump into the sea anytime soon and you might even get frightened when you go into a pool. We believe the shock effect of Snack Time would've been a lot bigger if the symbols were selected without any warnings, maybe except for the sonar ping that we find both useful and entertaining. This is also how it's done in the bonus round, and the 1,024 ways to win scheme leads to payouts that go as high as 10,000x your stake. All together, Mega Don by Play'n Go is without a doubt a new force within the shark genre.