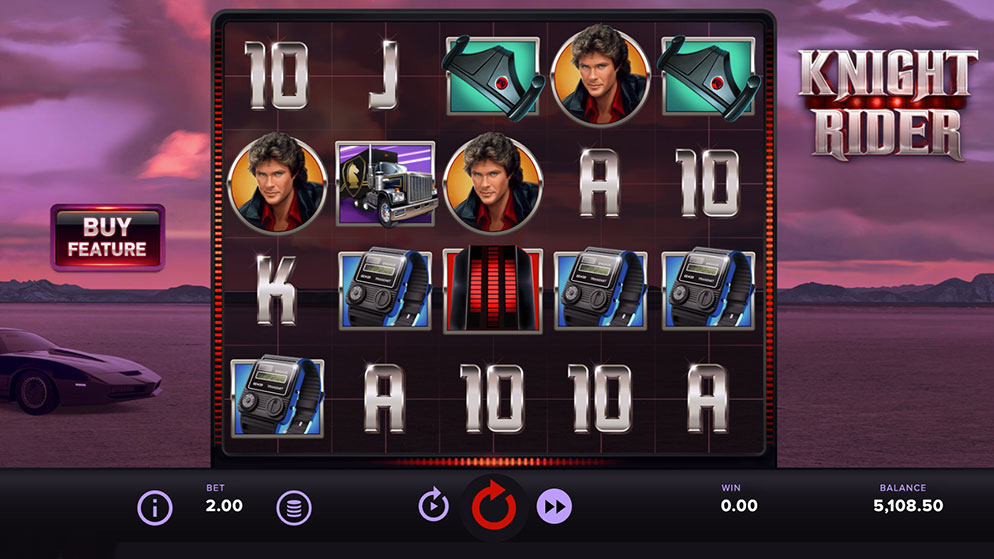 Knight Rider Slot is a video slot created from the popular TV series, Knight Rider. If you have watched this TV series, you definitely will want to try out this game. The game is also the favorite of players who love to play branded themed slots. Perhaps you will be playing this game for the first time, this review will equip you with all you need to know about the game.
Play Knight Rider
What is Knight Rider?
Knight Rider Slot is developed by the popular software developer, NetEnt. This game is mirrored after the popular TV series, Knight Rider. The movie features David Hasselhoff who played the role of Micheal Knight who is the main character in the movie. The movie also features a super AI car called KITT owned by Knight. This TV series is essentially the background and the theme of the video slot.
Knight Rider Slot is a 5X4 slot which means it has 5 reels and 4 roles. It has 26 fixed paylines where you can land matching symbols to win a game. To win, you are required to create at least 3 matching symbols from left to right and starting from reel one. The game equally includes some special features to keep the game interesting.
The video slot has a Return To Player (RTP) percentage of 96.07% which is just the average RTP for slot games. It equally has high volatility which means that it pays out high winnings frequently. There are special features in the game to enhance easy playing. Features such as Autoplay, Wild feature, Turbo Boost feature, and Free Spins.
The game is creatively designed by NetEnt to perfectly fit it into all devices. It uses HTML 5 and as such makes it optimizable by mobile devices. You can choose to play both on your desktop or use your tablet or smartphone. At the same time, the game is optimizable on any device regardless of the operating system.
Key Highlights
Let's talk about the highlights of the game Knight Rider. This highlights the game's features and specifications.
Specifications
Developer: NetEnt
Game type – Video slots and Branded slot
Theme: Knight Rider TV series
Reel: 5
Row: 4
Paylines: 26
RTP – 96.07%
Volatility: High
Bet range– C$0.20 – C$40
Maximum winning– 7000x
Bonus feature: Yes (5)
Free spin: Yes (10)
Multiplier: Yes (16)
Compatibility– All devices
Features
The game features both low-paying symbols and high-paying symbols.
It features both free spins and a multiplier which also offers the highest payout of the game.
Special features such as Autoplay and Turbo Boost features are also available.
There is a buy feature that allows you to buy extra free spins when the 10 free spins.
How To Play Knight Rider?
Knight Rider video slot is an easy game to play. Like every other slot game, there is no need to master any tricks in playing the game. It is absolutely a game of luck and you just have to put in a little effort hoping luck to be on your side. Learning to play the game is also not hard as you can take advantage of the demo version of the game.
The betting range for the game is between C$0.20 to C$40. Since the game is a slot game, it does not require many strategies to play. After placing your bet, you can just spin manually or use the Autoplay option. You will have to repeat this action until you achieve 3 matching symbols in adjacent reels.
There are different paying symbols in the game. It features low-paying symbols such as A, K, Q, J, and 10. These symbols are capable of paying between 0.25x to 1.5x your bet depending on the number of appearances. The high-paying symbols are radio watch, steering wheel, Knight truck, and Micheal Knight image. These symbols can pay between 0.5x to 4x your bet depending on the number of appearances.
Micheal Knight image is the highest paying symbol which can pay you up to 4x your bet. The game has a 7000x max win which is possible when you play the free spin game and earn the multiplier wild. The game offers you 10 free spins but you can subsequently gather free spins by landing the Knight symbol.
The KITT image is the wild symbol of the game. Interestingly, it acts as a walking multiplier wild. It can appear anywhere on the reel and can replace all symbols except the scatter symbol which is the Knight Rider logo. The wild symbol can also give a multiplier effect of 1x to 5x depending on the reel where it appears.
Strategies for playing Knight Rider
Just like it has been mentioned earlier, slot games are games of luck. There are no strategies to win the game. However, there are strategies for healthy game playing. You should apply these when playing Knight Rider Slot;
Have good bankroll management
It is essential to have bankroll management while playing slot games. Since it is a game of luck, you only know how much you are willing to bet. You may not know how much you are likely to win. Before you start playing, you must identify how much you are willing to bet in total. Then ensure that you keep to this no matter the outcome of the game.
Use the Autoplay feature wisely
The Autoplay features allow you to set the bet amount and spin automatically. You must be careful not to exceed your bet amount while using the features.
When playing your slot game, it is best to know when you quit playing just to play another time. When you have met up with your target is the right time to quit the game. Likewise, when you have met you have met up with your targeted bet amount, regardless of winnings or loss, you should quit.
Betting Options And Payouts
Knight Rider has different paying symbols. The payout of each symbol also depends on the number of times it appears starting from 3 appearances. The table below shows the relationship between symbols, number of appearances and payouts;
| | | |
| --- | --- | --- |
| Symbol | Appearance | Payout |
| A | 543 | x1.5×0.7×0.35 |
| J | 543 | x0.75×0.4×0.2 |
| K | 543 | x1.25×0.6×0.3 |
| Q | 543 | x1x0.5×0.25 |
| 10 | 543 | x0.5×0.3×0.15 |
| Micheal Knight | 543 | x4x2x1 |
| Knight Truck | 543 | x2x1x0.5 |
| Radio Watch | 543 | x2x1x0.5 |
| KITT Steering wheel | 543 | x2x1x0.5 |
| KITT Voice display | 543 | x3x1.5×0.75 |
The game has an RTP of 96.07% which can be considered fair since the average slot RTP is pegged at 96%. Likewise, the game has high volatility which means it pays out high winnings frequently.
Extra Features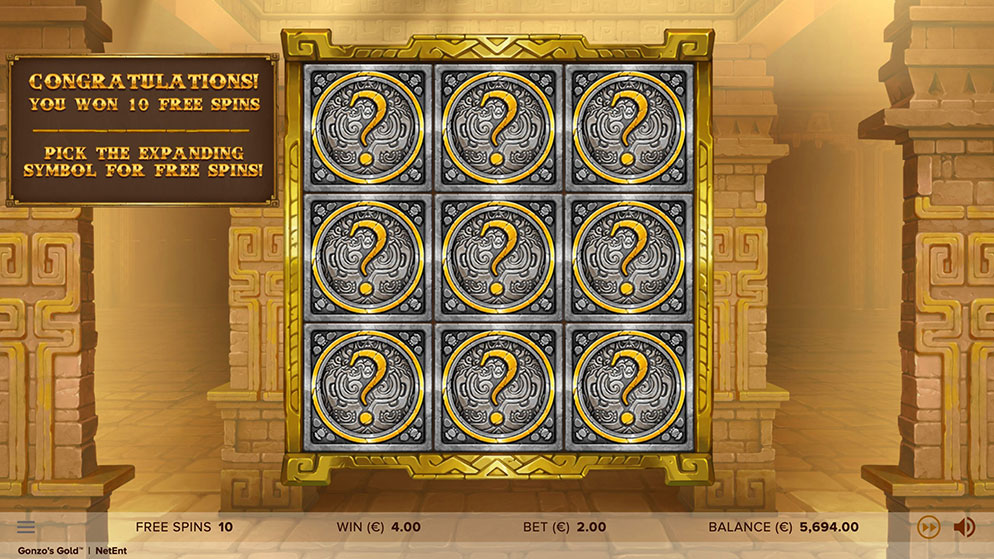 Knight Rider Slot has extra features associated with the game. These features are highlighted below;
There are 5 bonus features available in the game, Knight Rider. These bonus features include walking multiplier wild, free spins, scatter symbols which is the Knight Rider logo, and the Knight icon.
Walking Multiplier Wild Features
The walking multiplier wild is available both in the paid spins and the free spins. The symbol is the KITT image which can land anywhere in the reel. It gives a multiplier effect depending on the reel it appears in. That is, it applies a 3x multiplier when appearing on reel 3 and vice versa. If you land one on every paylines, you might eventually have a total multiplier of 120x.
The turbo boost feature is available only in the base game. It is triggered randomly and the effect is that it adds 3 or 4 walking multipliers wild to the reel. The multiplier value of the added walking multiplier wild is also given.
Free spins and laser wild feature
Landing 3 scatter symbols which is the Knight Rider logo on reels 2, 3, and 4 respectively will trigger the free spin feature. This will award you 10 free spins which you can then play in levels. There are a total of 4 levels in the free spin game. You will start from level 1 then try to move up to level 4.
Moving up the level is fine by filling up the meter on the screen during the free spin game. The meter is filled up when you land a Knight symbol. Three Knight symbols will complete a level which means you need a total of 12 Knight symbols to fill up to level 4.
At level two, you will trigger a laser wild feature. This feature gives you 2 extra free spins and also adds one walking multiplier wild to the reel. When you reach level 3, it offers you 2 more free spins and 2 walking multipliers wild. Reaching level 4 will qualify you for 2 more free spins and 3 walking multipliers wild.
A buy feature is an option that allows you to buy free spins. In case you are not lucky to trigger free spins, you can buy a free spin and enjoy the same privilege as in the free spins and laser wild feature. This allows you the chance of winning about 140x your bet.
Final Verdict
Knight Rider Slot is an interesting game from NetEnt. The video slot with the Knight Rider TV series theme will be appealing to lovers of the series. If you have also enjoyed playing a branded slot, you will definitely love to check it out also. It features visuals and a soundtrack that makes it both entertaining and exciting.
The slot game has an RTP of 96.07% and has high volatility. It features different symbols and payouts. It has a high potential payout of 7,000x. It also includes special features such as free spins, walking multiplier wild, and turbo boost features. There is a demo version of the game you can play for free before playing for real money.