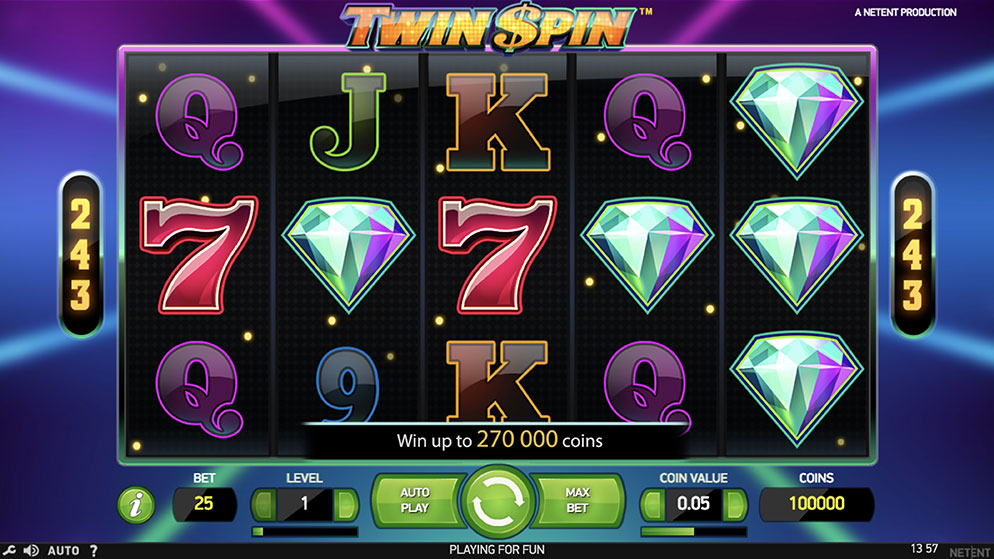 Classic Vegas-style slot symbols such as Bells, Cherries, and Gold Bars are used in this NetEnt 5-reel video slot. Twin Spin doesn't have bonus rounds, free spins, or scatter symbols, but it does have a unique key feature that gives you a lot of chances to win. At the start of each spin, the Twin Reel feature connects adjacent reels with identical symbols.
These twin reels can be multiplied into triplet, quadruplet, or even quintuplet reels. Consider how many winning combinations you could come up with if you did that. Payouts are made for any matching symbols in any position on adjacent reels starting from the leftmost reel and moving right, with 243 ways to win.
Play Twin Spin
What is Twin Spin?
Twin Spin is a beautiful 5-reel, 3-row slot from NetEnt that offers players the chance to win one of 243 possible winning combinations each time the virtual reels spin.
This time, the Swedish software studio takes us back to a time when slots didn't have as many bonus features and had more straightforward gameplay. Twin Spin is all about simplicity, and it's more likely to appeal to traditional slot fans.
This isn't to say that the game's visuals aren't appealing. The graphics, on the other hand, are expertly rendered, and the symbols vibrate from the reels in vibrant colors. With bets ranging from $0.25 to $125 per spin, the reels can be set in motion.
Key Highlights
Let's take a look at the Twin Spin slot's highlights. The features and specifications of the game are highlighted in this section.
Specifications
Provider: Netent
RTP: 96.60%
Minimum Bet: $0.25
Maximum Bet: $125
Jackpot: Fixed jackpot of 270,000 coins.
Scatter Symbol: NA
Bonus Feature: NA
Language Supported: The streaming language is English but the interface supports other languages such as Albanian, Chinese, Bulgarian, French, Italian, Spanish, Portuguese, Polish, Finnish, German, Croatian, Serbian, Slovak, Russian, and Romanian.
Features
Since Twin Spins is a relatively simple game, there aren't many special features to distract you from your gameplay. It differs from older classic slots in that it has a unique reel synchronizing feature (described below), as well as a Wild symbol that replaces all other symbols on the reels. There is no Scatter symbol, free spins, or separate bonus games in this 5-reel video slot, but you can use Autoplay to have it spin anything between 10 to 1000 spins for you.
How to Play Twin Spin?
The format of this game is a little unusual. Despite having five reels like many other slots, the Twin Spin slot has a whopping 243 ways to win.
To see the Twin Reels in action, place your bets and spin the wheel. All spins begin with the Twin Reels, which are adjacent reels that are linked and feature identical symbols. Only the twins, out of the five reels, have red lights glowing behind them when they begin to spin.
The duo reels can also clone themselves into three, four, or five reels during a single spin. As you might expect, synchronization across the playing field greatly increases your chances of winning.
The Twin SpinTM slot stands out from other classic slots thanks to its unique reel-synchronizing feature. The game does not have a scatter symbol, separate bonus games, or free spins to unlock, unlike most five-reel slots. The autoplay option, on the other hand, is advantageous to players because it allows them to spin between 10 and 1000 times.
You must first decide how much you want to bet per spin before pressing the spin button. We've given players a wide range of wagering options, ranging from £0.25 to £125.
Symbols
There are a total of twelve symbols in this slot. These are the standard card royals from A to 9, each with its own neo color. Then there are the higher-paying symbols, such as cherries, bells, BARs, lucky 7s, and diamonds, which are made up of made-up symbols. Finally, there is the wild symbol, which can be used to replace any other symbol in the game.
The standard playing card images are aglow in beautiful neon colors in the casino game. These six symbols are at the bottom of the pay scale, with the Nine, Ten, and Jack paying out the least for at least three matches. The high-paying royals are the queen, king, and ace, with a maximum win of x40 for five combinations.
While the above is thrilling, you should focus your efforts on the other symbols. The value of the cherry and bell are the same, but the BAR is worth more than both. The diamond is the most valuable symbol, with the 7 symbols coming in second.
Strategies for playing Twin Spin
Even though Twin Spin is a game that is based on luck, here are a few strategies that you can use when trying your hand out at it.
The first Twin Spin slots strategy you use is to learn how to play without using any Twin Spin slots cheats. While this may not appear to be a sure-fire winning strategy, keep in mind that those who dive in headfirst are more likely to lose. Although the Twin Spin slots casino game is a relatively simple game, understanding how it works is beneficial. Learn how to use the game's various features. Examine the successful combinations. For complete peace of mind whenever you spin the reels and bet, it is always best if you have a solid understanding of the game.
Keeping track of your wagering funds
When betting, you can use a Twin Spin slots strategy to ensure that you get the most out of each bet. To begin, decide on a betting budget. Keep this figure in mind so you don't lose the money you can't afford to lose in the first place. It's also a good idea to create a separate account solely for gaming purposes. Once you've decided on an amount to play with, divide it into bet amounts so that you'll get at least 20 spins. One of the most useful Twin Spin slots hints is this.
Probabilities of Winning
In the main game, there is a 27.8% chance of winning any stake. This index indicates that nearly every third spin will be successful, resulting in a payout. It's worth noting that in this slot, the theoretical return on bets to the player is 96.6 percent. It implies that you can be optimistic about the game's outcome. RTP, by the way, is made up of several indicators. As a result, if two reels are connected, the slot will return 55.1 percent of the coins from the general fund of player bets. These figures will be 17.8% and 7.8% respectively if there are three or four connected coils.
Features of The Twin Spin game
Twin Spin by Netent is filled with a lot of different features. Here are the interesting features you can experience when you play Twin Spin.
Base Game Wilds and Other Features
To avoid sounding repetitive, the Wild symbol is the Wild symbol. That's about all there is to it. It can appear on reels 2–4 and take the place of any other image. There are no special abilities or power-ups to be found.
Because of the excellent dual-spin game mechanic, there are no free spins in Twin Spin. In the base game, two random adjacent reels join with a bright light around them after each spin. They spin in unison with the same symbols on them, increasing your chances of winning. The border can sometimes expand to include up to five additional reels. Because that means you'll get five matching symbols per row right away, you're in for a big win!
The classic 7's and fruits theme from Las Vegas land-based casinos is revisited in NetEnt's Twin Spin game. A dark background with various shades of purple and blue is present. Depending on whether you win, the slot grid changes from black to white to golden.
We liked the neon outlines, even though the symbols are pretty standard. Lights flare up around the images when you hit a winning combination, giving the game that authentic Vegas feel. The level meter at the bottom and on the sides was also a hit.
Final Verdict
Twin Spin is a straightforward slot game, especially when compared to some of NetEnt's more recent offerings. However, the riot of colors that explodes on the reels after you load it still has a lot of appeal. If you're new to online slots, this could be the ideal game to get your feet wet. There are no bonus features or paylines to get in the way, and the 270,000-coin fixed jackpot adds to Twin Spin's appeal.