When searching for new slot games, most players tend to focus on game themes or jackpots rather than on volatility or RTP. The latter term Return to Player (RTP) is often used in online gambling, but many new players aren't familiar with what it actually means. The RTP is one of the essential numbers when it comes to online slot games and your odds of winning. As winning means dollar bills, this three lettered gambling term will have a major impact on your overall gaming experience.
While an RTP doesn't predict your winning chances, it will help you to understand which games give you the best odds. In this guide we will quickly go through the basic concept of the RTP percentage and explain how to check the RTP of an online slot game yourself. Understanding how this works can be helpful for all players who want to get the most out of their gaming session, get better payouts, and consequently get more for their money. Even if you have no idea of how a percentage can affect your enjoyment of playing slots, there's no need to worry as we'll explain everything you need to know about this definition, how it is integrated into slot games, and how it should influence your decisions on what games to play and not to play. Ready to find out how RTP can help you in the long run?
What is RTP and how does it work?
RTP is an abbreviation for Return to Player which stands for the likely payout you will receive for every dollar you wager with a casino game such as a slot game. This is the average return you can expect when playing an online slot game over a longer period of time. Usually, the RTP of a slot ranges somewhere between 95% and 97% which means that if you bet $1, you will get back between $0,95 and $0,97 from the house. The RTP is never 100% as online casino websites take a small portion of every bet you place. That part is known as the House Edge​, which basically means the casino will always win in the long term, but here's always a chance to trigger a huge six- or seven-figure jackpot in the short term. The RTP is calculated over the long-term for all players, not per wager.
The house wins in the long run
You should still bear in mind though that not every bet is a winner or a loser because of its RTP as short term differences can occur. This means a player could walk away with a $90 win on a $5 wager or be left behind with an empty bankroll as short time differences are caused by gambling's unpredictability. Most people (expect those making a loss) will probably agree that randomness is what makes online gambling so much fun. Let's not forget that games of chance are fully random and this includes slot games. Still, the RTP gives us valuable information as it shows which games give higher returns which should be one of the most important indicators when trying to find a slot game to play online.
Check out: Top 10 Tips on How to Win Slot Machines Online
Play Slot Machines Online Now!
Where to find the RTP on slots?
Finding information about RTP is actually very easy as there are many different ways to find out the game's Return to Player. First of all, online slot games come with public information such as a paytable, which can be accessed via the game's interface, available at your preferred online casino. The game developer is a second important source of information as they're the ones that produced the games and have all the info you need about the title's RTP. Third, there is Vernons that features everything Canadian players need to know about casinos and slot games. This includes complete guides and game reviews which also feature the RTP. Let's take a closer look at how to find RTP on slots.
Game page
Although less common than pay tables, some online casinos include dedicated landing pages that give you all the information you need about their games. One of the casinos that works with this approach is Wildz Casino which is one of Vernon's recommended casinos for Canadian users. In order to find the game information all you need to do is:
1. Head to Rizk Casino's website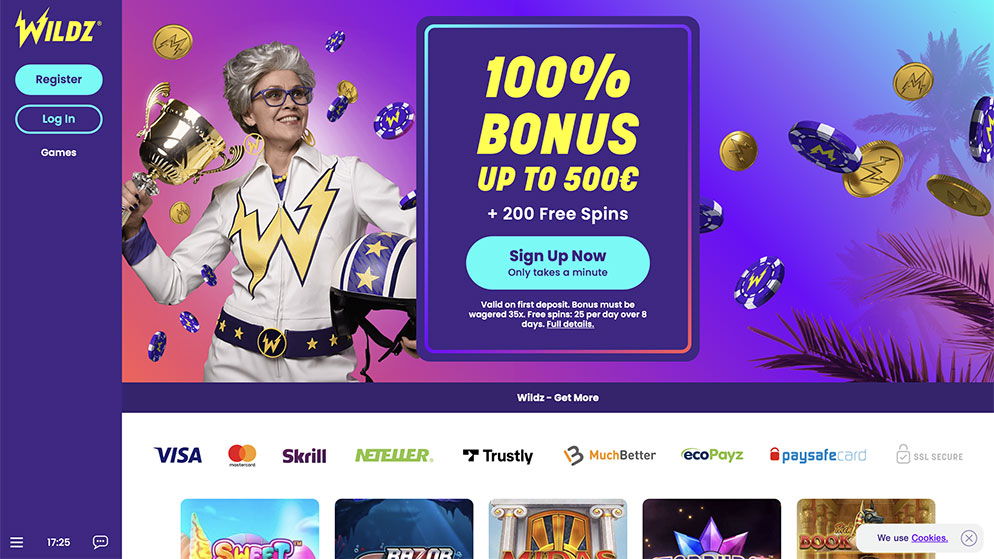 First, your best bet is always to claim a welcome deal if there's one available. In the case of Wildz Casino there is actually a complete welcome package for Canadian users, so make sure to claim your deal after reading the terms and conditions.
2. Select your preferred slot game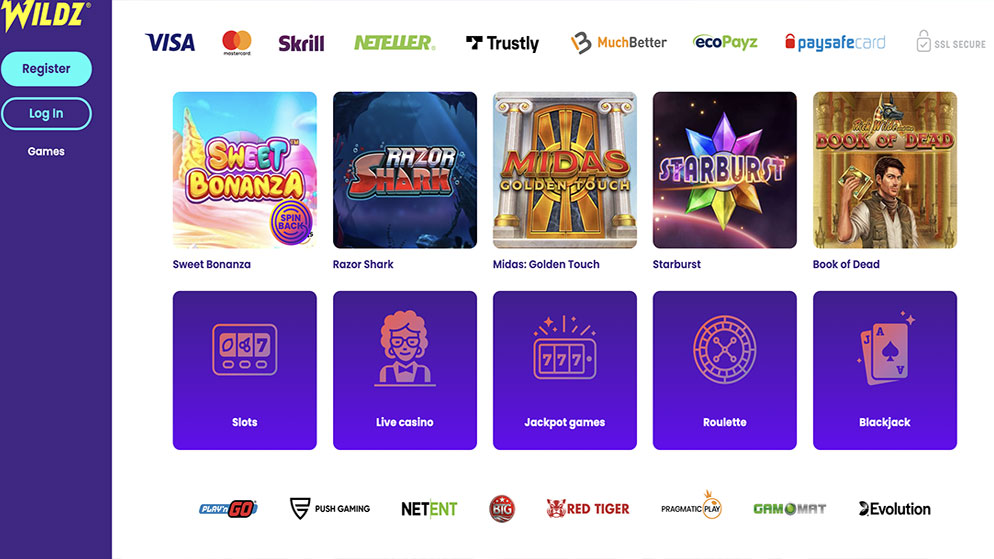 Look for your preferred game. For this example, we decided to select Starburst as this is still one of the most popular games in Canada. The game can be picked directly on the home page or by making use of one of the different filters. This step may differ depending on the casino you're about to join, but in this case all you need to do is click on the icon.
3. Look for the game's RTP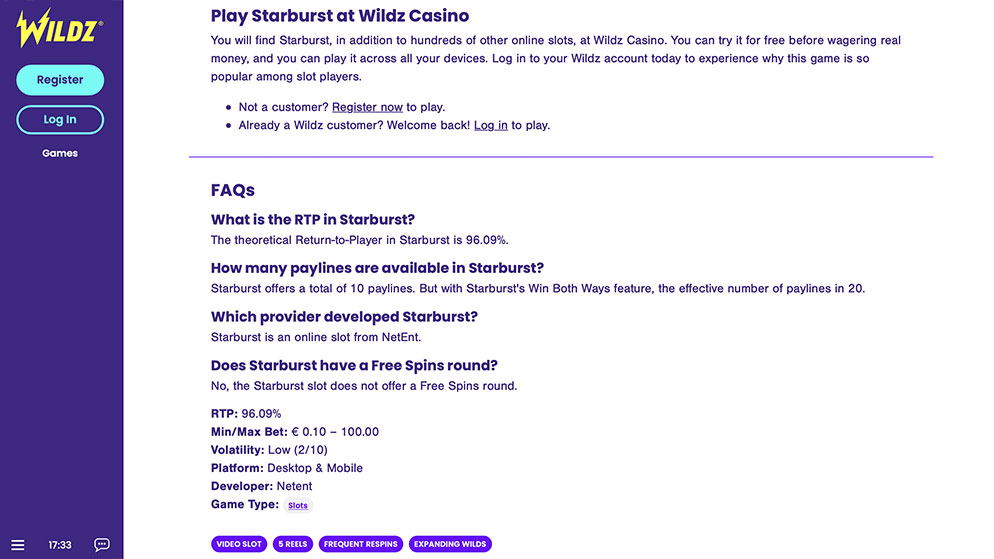 Boy, we love transparent casinos that give us all the tools we need to find the ultimate gaming experience. Rizk Casino is one of the most transparent websites we've come across in recent reviews as it's giving players all the necessary information before they get involved in all the action. You'll find the RTP of Starburst once you scroll down:
For your convenience, Wildz Casino has also included other details such as the game's minimum and maximum bet as well as its volatility. This is all you need to get going. Not all games contain as much information as Starburst as this is one of the most popular slot games ever mind. And not all online casinos are as accommodating as Rizk Casino.
Pay table
Alternatively, you can look up the game's RTP by directly heading to the game. This can be done either in the demo or the real money version, so in case you're wondering whether a game fits your needs, but don't want to wager real money, you can always look up the RTP first. Below, we'll explain how by giving you the exact steps you need to follow. In order to give you a valid example we once again use Rizk Casino's website:
1. Select your preferred slot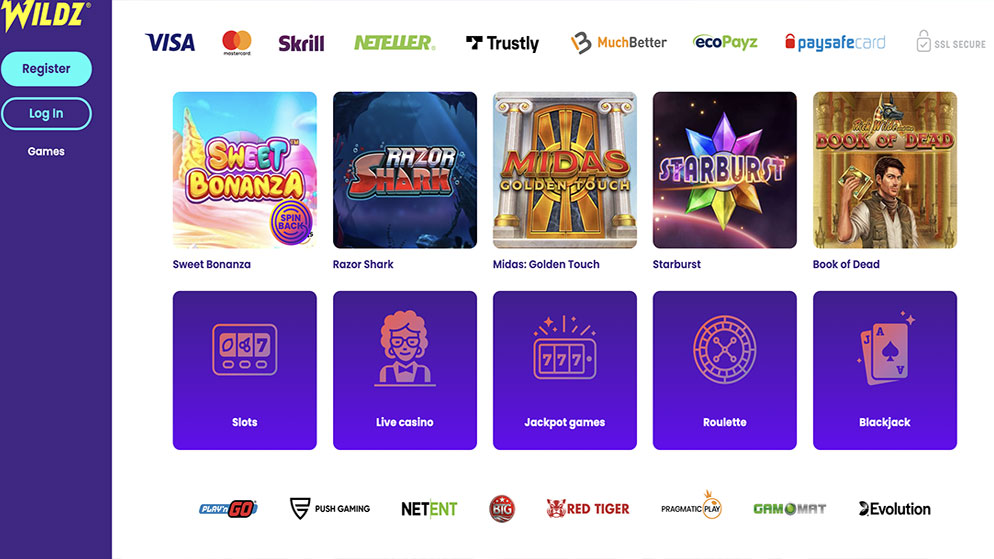 Look for your preferred game. This is also done by selecting the icon and clicking on it. We'll use Starburst once again. The exact way to look up a game depends on the casino.
2. Open the game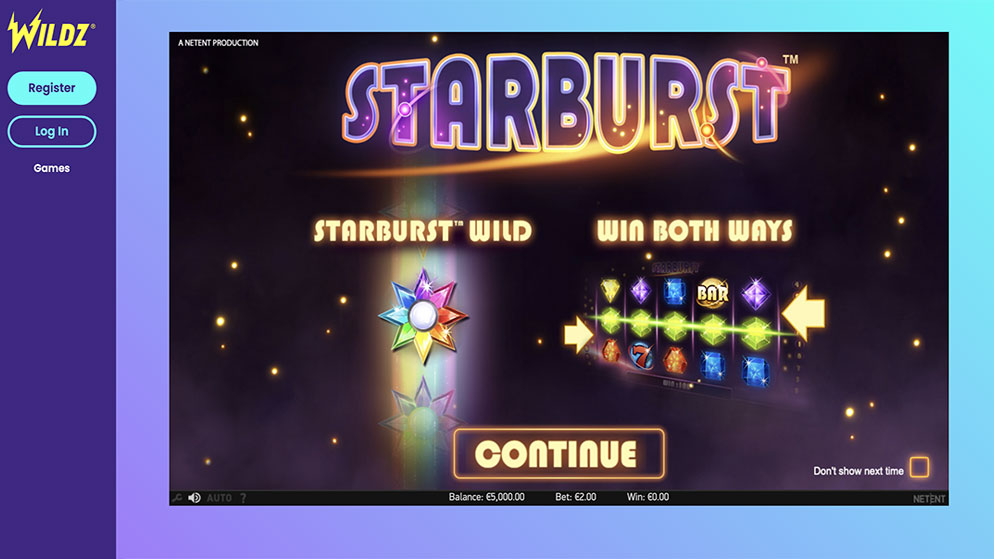 Next, the game will pop up after you'll need to press "Continue". This step is just as self explanatory as the first step. In case you need to make any selections before starting your playing session make sure to pick whatever meets your preferences.
3. Go for the paytable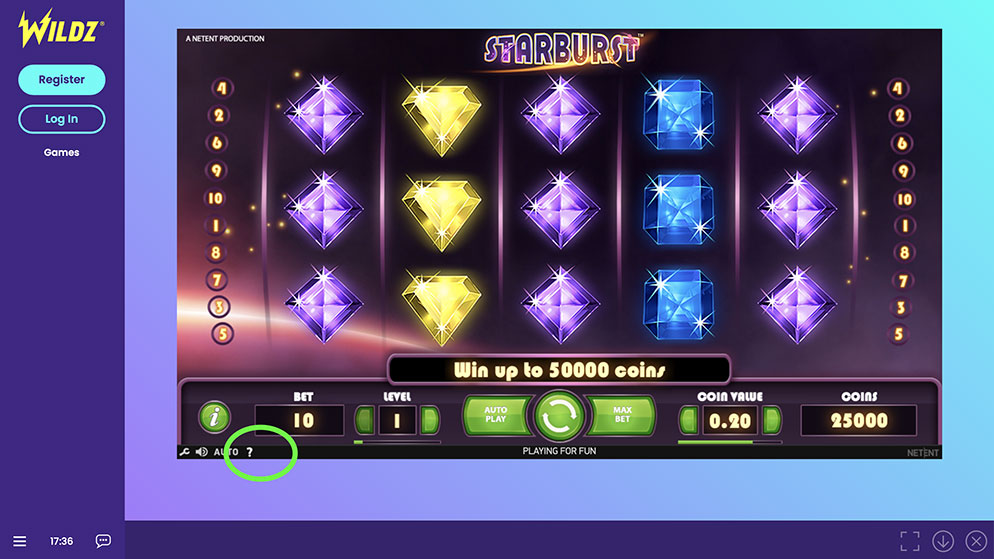 This is where things get kind of interesting. Click on the paytable below the game's grid to get a complete overview of the game rules, how much a symbol on a payline is worth, and what the RTP is. This is done by clicking on the question mark highlighted in green.
4. Look for the RTP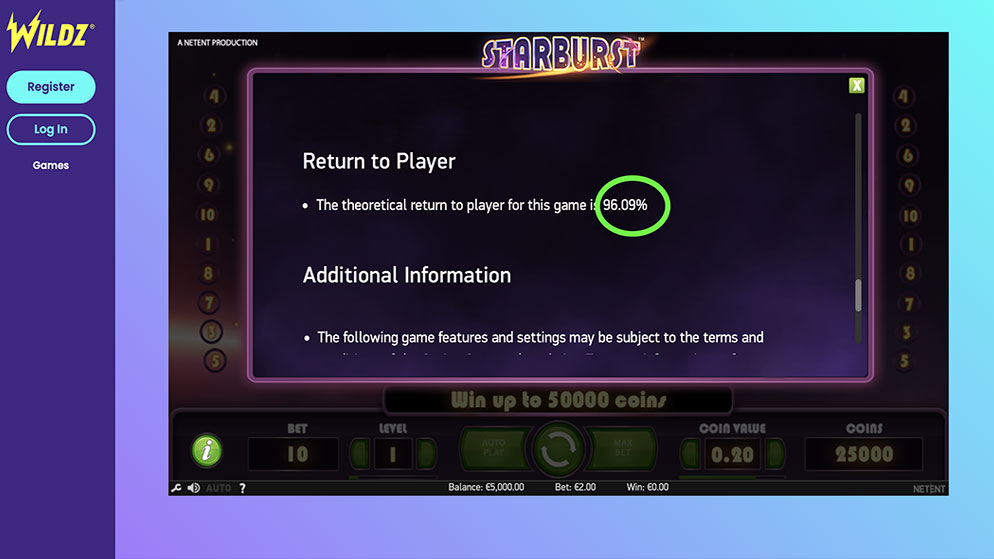 The next step requires you to scroll a bit down if you want to head straight to the RTP. We do recommend you to read all the details along the way as this is where you'll find quite some useful information about the game and the rules it works with.
Developer's website
Another way to find the game's RTP is by directly heading to the developer's site and looking up the title there. You will clearly need to know which provider launched the game in order to perform this step. Let's assume you do, then you would need to go to NetEnt's website if we take Starburst as an example. Although the game is called Starburst, the game's developer is NetEnt. Sometimes there are multiple game developers that have worked on a game together. In this case you might as well check out both websites.
1. Go to the provider's website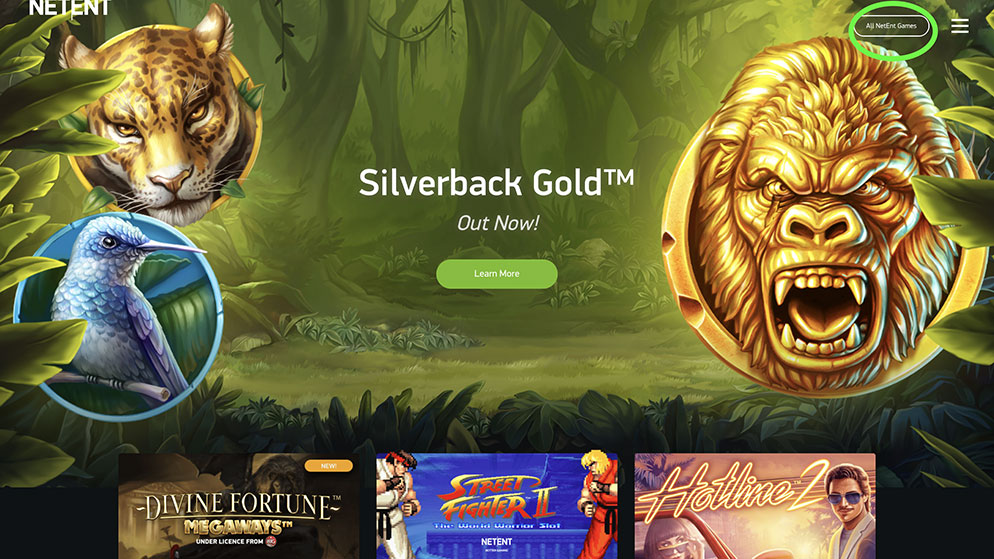 Starburst is one of NetEnt's most popular games ever so that's the website we're heading to. Either google the game developer's name or directly head to their site if you know their URL by heart. As you can see, NetEnt's site is quite something. Now search for Starburst.
2. Search for the slot game and open the game's landing page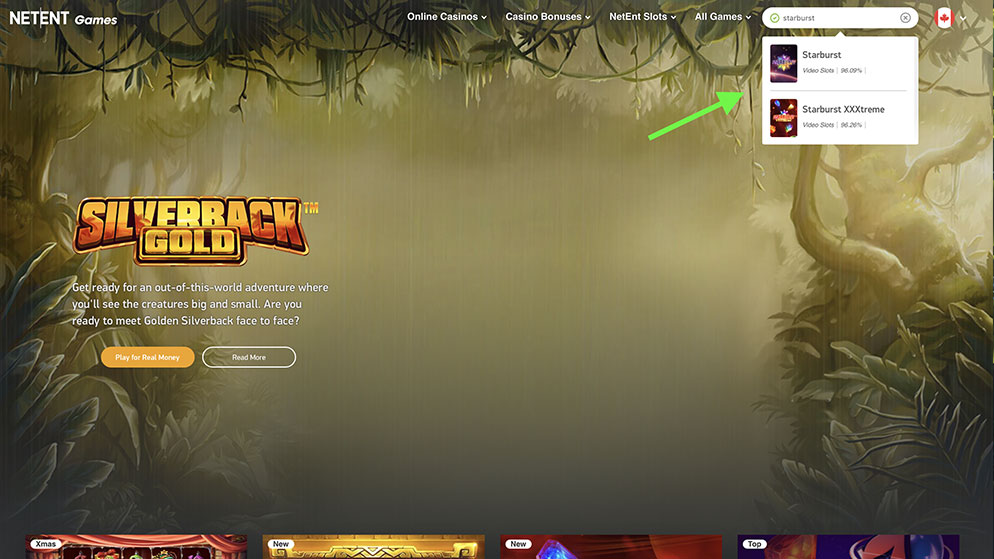 This can be done in many ways, but actually depends on the developer you're dealing with. In this case there's a search field, but another way is to head to the assortment by hitting All Games and then Slots. The exact steps will differ according to the site you're visiting. For your convenience, the RTP is already shown in the search results, but let's click on it to see what pops up next.
3. Scroll down to see the RTP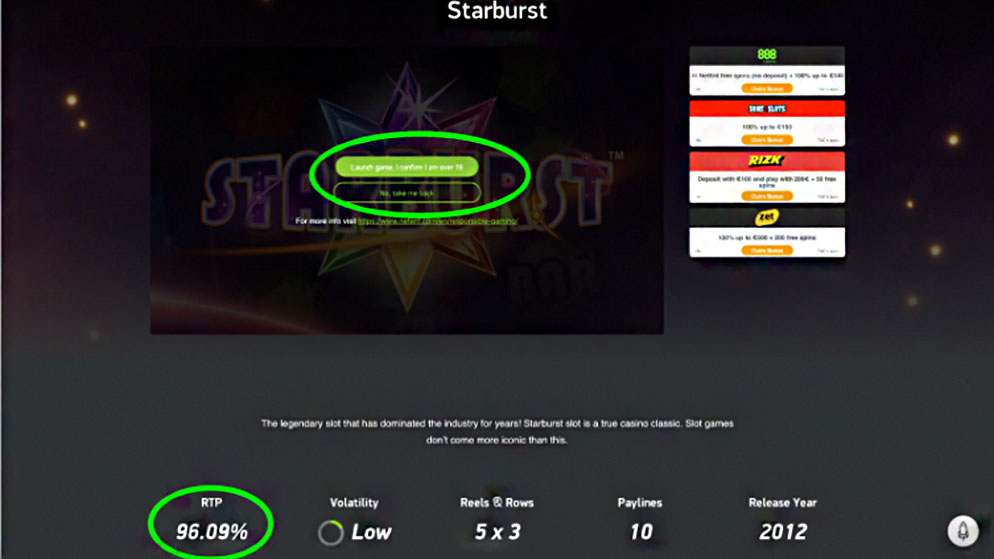 After you've confirmed your age, you will find all the game's information once you scroll down. The way this information is displayed will also depend on the website you have just landed. We do believe it's easy enough to figure out the exact steps with this guide.
Google "[NAME SLOT GAME] RTP"
We already mentioned Google's role in finding your favourite game's RTP and in this step we'll do it again, but with a slightly different objective. One of the quickest ways of finding the RTP on slots is by searching for the name of the individual game and the RTP in Google. Here's an example that is, once again, based on NetEnt's Starburst:
You want to know the RTP for Starbust.
Google "Starburst RTP".
A number of the listed results should show that it works with a 96,09% RTP.
The good thing is that you often won't even need to click one one of the search results in most cases. Reading the description snippets under each link to spot the RTP should do the trick. In order to be sure we recommend you to click on it.
In the case of searching for Starburst RTP, you'll need to be careful not to confuse the search results in front of you with related games like Starburst XXXtreme. Some games have very common names and are produced by multiple developers. That being so, we recommend you to include the provider's name in the search query giving us "[NAME SLOT GAME] [NAME PROVIDER] RTP" which would add up "Starburst Netent RTP".
Downloadable game sheets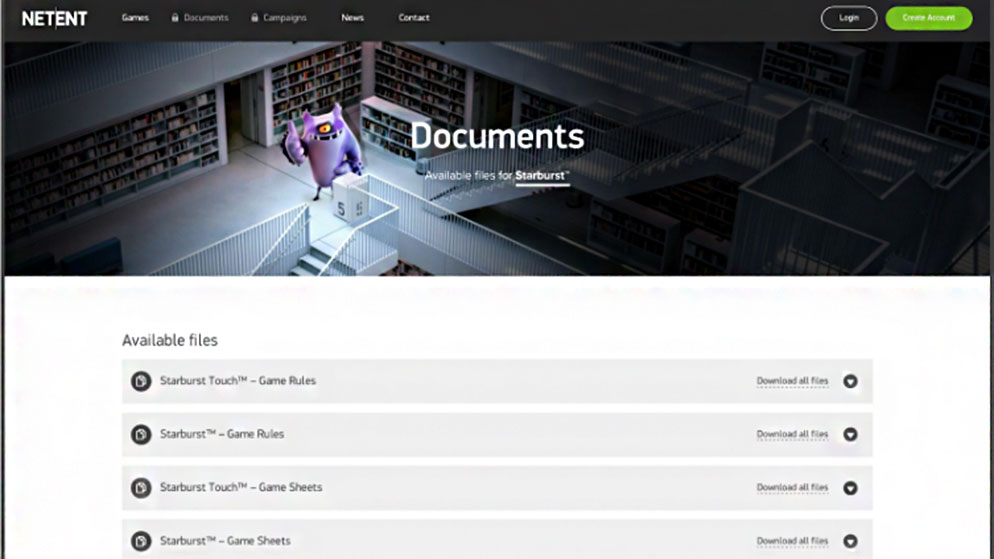 Some online casinos offer their players detailed and downloadable information about a game. Usually this is done as a PDF file that can be accessed once it's downloaded. This is probably one of the least convenient options available as it requires the user to download the game sheet to a device such as a computer, laptop, or smartphone. Especially the latter device isn't always optimised for viewing PDF files. Luckily, NetEnt doesn't fail to give us all the game sheets we need to find the information we need. This even includes a wide range of different languages so feel free to select the language you're most comfortable with. For most Canadian users this will be English or French.
Slot reviews
Vernons is one of the best platforms in Canada when it comes to online slot reviews, so make sure to get the most out of this. Every game review includes a direct link to the demo mode and a list of our recommended casinos to play your favourite games. It also features an overview of all the game information you need such as volatility, maximum win, and RTP. We make sure to list the game's RTP in both the body text and the game's overview, so it's difficult to miss this. In addition to checking the game's RTP only we advise you to go through the other info you come across in these reviews as well. Our reviews contain all the data and details you need to decide whether a game is right for you.
Vernon's Slot RTP list
As you've found your way to Vernons' website you might as well check out our dedicated slot RTP list. This page included an updated list of the best casino games in terms of RTP's. The overall Slot RTP list narrows down the games with the highest RTP's so you won't have to search any further if finding the game with the highest RTP on slots is what you're after. To give you even more info that may turn out useful we have also included a list of the highest RTP on slots per provider. This concerns the industry's biggest brands such as NetEnt, Microgaming, Play'n Go, Big Time Gaming, and Playtech. Check out our Vernon's Slot RTP list to find out which other developers are listed there.
Careful with ranging RTP
Game developers have become very accomodating trying to meet the market's needs and one of ways to do this is to offer varying RTP's, meaning the same game is offered online with a 96%, 94%, 91% and 88% RTP. This especially favours online casinos as this gives them the flexibility to offer games with an RTP they believe is fair. Players, however, will need to pay some extra attention and follow the steps we have come across in this complete guide on how to find RTP on slots. Always make sure to get the most out of your bets with real money by joining casinos that give you the biggest odds of winning.
In the short term, anything is possible
As you'll get by now, finding the RTP of a casino game can be very useful during your casino experience, especially if you're a frequent player. Looking for specific games that meet your RTP criteria should be as basic as sticking to games because of their volatility, game theme, or potential maximum win. Our goal is to ideally make you find the slot games that check all the boxes, including the one that says Return to Player. However, bear in mind that this spec only tells you what theoretically happens to your spins over time if you make a large number of bets. In the short term, anything is possible.