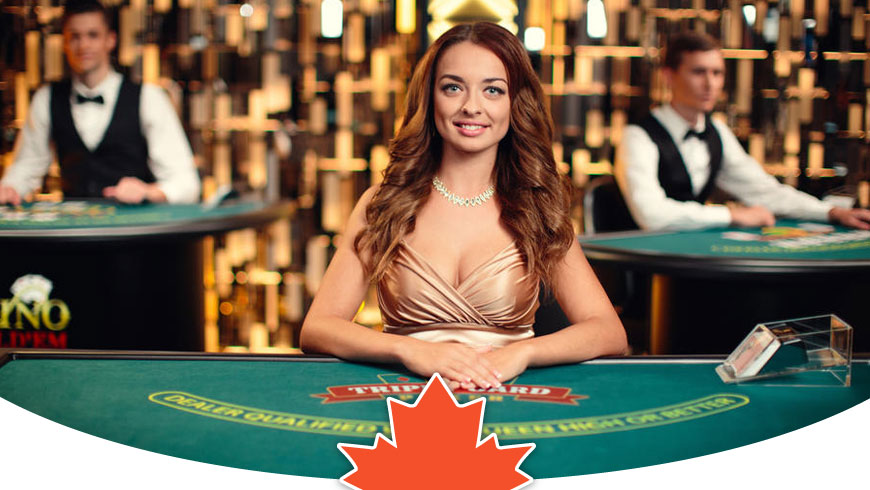 About the game
Traditional poker games such as Texas Hold'em are still very popular and fun to play, however they're a bit difficult to play in a live dealer setting. This isn't meant to criticise traditional poker games, but some players would prefer a poker game that is optimised for live dealer fans. Three Card Poker Live by category: Evolution is an exciting, fast-paced poker variant that mixes various elements of live poker and live dealer studios that any poker fan will enjoy. The simplicity of the game makes it a great variant to start with — even for players without a lot of poker experience. In this review we will take a look at what Three Card Poker has to offer and how you can get the most out of your next live casino adventure.
Where to play it
The casinos listed below will give you the ultimate live poker experience as they're all licenced and available for Canadian players. All of the casinos below have been tested and approved by our experienced casino professionals. Claim your bonus while signing up.
The rules
Evolution's Live Three Card Poker gives a unique twist to the traditional poker concept which explains why the game has turned out to be in high demand among poker fans who are looking for a live dealer game. The game is played with a standard 52-card deck, with the deck being reshuffled after each round. The goal in Three Card Poker, like all other poker variants, is to make a better hand than your opponent, but in this case it's the dealer who you are competing with. This will make the game easier, while still offering lots of fun.
You start each game by placing your bet. This bet is also known as the ante. The ante at the Evolution Gaming 3 Card Poker table is a minimum of $1 and a maximum of $2,500. After the ante, everyone at the table, including the casino's live dealer, is dealt three cards. After checking out your cards, you have the choice between passing or playing. If you pass, you lose your ante. If you play, you have to bet an amount equal to the ante put up.
The game is on if the bank has at least a high card queen or better. If the bank doesn't, the ante remains for the next game of Three Card Poker. You win if you have a better hand than the casino. In case of a tie, your bet remains in play for the next round.
3 Card Poker hand values
The poker hand values of 3 Card Poker are slightly different compared to, for example, Texas Hold'em Poker which is because you're dealt three cards instead of five cards:
Straight Flush: three cards of the same symbol and of consecutive value.
Three of a kind: three cards of the same rank.
Straight: three cards of consecutive rank, but with different symbols.
Flush: three cards with the same symbol, but not with a consecutive rank.
Pair: two cards of the same rank.
High card: the highest card if you don't have any of the above hands.
The value of a Flush and Three of a Kind are reversed, which is because a Flush is a lot easier to get and a Three of a Kind a lot harder, at least in Three Card Poker. You will probably have noticed too that Full House and Four of a Kind aren't listed, which is obviously because the game is only played with three cards.
How to win
Winning a game of Three Card Poker is considerably easier than winning a regular game of poker, although we have to point out here that this will obviously depend on a combination of your skills, the skills of your opponents, and a bit of luck of course. We do want to give you some extra tips and tricks to get you going for your first bet. Here's how:
1. Grab your bonus
3 Card Poker is easier to master than standard poker, but both new and experienced players will probably need to play a few hands of this live game to understand the full picture. This is why claiming a bonus will help you as this will give you a way to lower your risk and get the most out of your live dealer poker experience.
2. Put together your bankroll management
Proper bankroll management is especially important for poker games as this is one of the most thrilling games available in live dealer casinos. Once most players make their first bet they will get taken away by all the game action which is exactly why you should have an idea about your maximum loss and target profit before you make your first bet.
3. Determine your bet
When it's time to bet, you'll see a number of chips appearing with different values. Select the chip with the value you want and click on the diamond that says 'Ante'.
4. Make your first move
By putting in the ante, you play along. This is your first bet.
5. Decide whether to continue playing
After the bets are placed, you are dealt three cards. On the basis of those three cards you decide whether you continue or fold. If you continue playing, you double your bet.
6. Compare the cards
After this, the croupier turns over the cards from the bank. If your cards have a higher value, you win. If it's the bank that wins, you lose the total bet.
How to play
3 Card Poker is played by an increasing number of Canadian players, but the game isn't available in every live dealer casino. So before you sign up at a casino, you'll need to make sure 3 Card Poker is actually offered by the website. Our own site has included different casinos in Canada that feature 3 Card Poker in their assortment. If you've found yourself you favourite casino that offers 3 Card Poker, this is how to play the game:
1. Determine the amount of your first bet
Each round of Three Card Poker starts with a betting period in which players are required to place their bets. Wagering at Three Card Poker is very simple, you first click on the chip with the preferred value and then place it in the area that says 'Ante'. This is the standard Three Card Poker bet and is a bit like a blind bet. The big difference is of course that you can decide for yourself how much you want this bet to be. In addition to the standard bet, Three Card Poker also features two side bets: the Pair Plus and 6-Card Bonus.
2. Beat the dealer with three cards
Once the betting period is over and all players have made their bet, the game will begin. The dealer will draw a total of six cards from the shoe: three for the player, three for the dealer. All three of the player's cards are placed face up on the table, while the dealer's cards are all dealt face down. Once all six cards are on the table, the player has two options – fold or continue. Should you decide to fold, you will lose the 'Ante' bet and the round will be over. If you decide to continue playing, you must make a 'Play' bet that is equal to your 'Ante' bet. The dealer will then reveal his or her hand after which it will be determined which side has the best hand, in which there are three possible scenarios.
3. The dealer needs to qualify
First of all, the dealer may have a better hand, leading to a loss of both your Ante and Play bets.
The other option is that the player has a better hand, but this doesn't mean that you've won both bets. In order to be paid out fully, the dealer will need to qualify, which means that the dealer must have at least a queen.
If the dealer doesn't manage to qualify you will be paid out your 'Ante' bet, but your 'Play' bet will only be returned with no winnings.
Two different side bets
Three Card Poker also features two side bets:
Pair Plus: the Pair Plus bonus only applies to your cards and the name actually reveals how it works: you win if you have a pair or higher. It doesn't matter whether you win the round or not, as long as you have a pair you will win this side bet.
6-Card Bonus: the other side bet is the 6-Card Bonus, which, unlike the Pair Plus, uses all six cards. For this side bet you need at least a Three of a Kind to win.
Both side bets must be made during the first betting period, before the dealer has dealt you your cards. With both side bets, the better the hand, the higher the payout. One of the great things about Three Card Poker is that any player can enjoy this game without too much effort. This is thanks to the fairly simple rules of the game, which is a result of the fact that there are only three cards you will need to take into account.
The features
Three Card Poker is streamed from a stylish, gold-toned Evolution Gaming studio located in Latvia. While playing, you'll be able to hear the action going on at the other tables, giving you the feeling of being part of the real land based casino ambiance. Three Card Poker gives you the user-friendly interface that you'd expect from any Evolution game. As every live game by Evolution stands for a premium studio and excellent service the dealer's will make sure you will feel welcome and enjoy the game. All of Evolution's dealers are highly skilled and will guide you through the game. 3 Card Poker is a perfect game for players who enjoy poker in a live setting without needing to think too much about their game plan.
RTP
Live Three Card Poker is a mediocre game if we take a look at the game's payout percentage. If you're after live games with high RTP's, it might be a better idea to play a game like Live Roulette. Live Three Card Poker's payout percentage is 96,63% which isn't very high compared with other live dealer games, but let's not forget that skills make a difference here, so it's up to you as well to lower the casino's house edge as much as possible. The RTP of the Pair Plus side bet is 95,51% and for 6-Card Bonus it's 91,44%.