Pros
Multipliers up to 1000x
Great production to reach a mainstream audience
Fairly easy to learn
Wide range of betting options
Great oriental themed live studio
Significantly higher RTP than the traditional Asian game
Cons
Not all players will be familiar with Sic Bo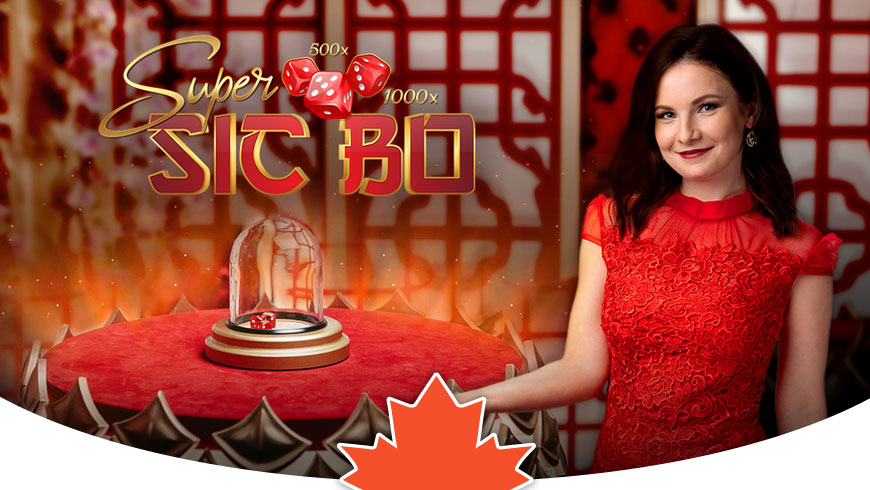 About the game
As Sic Bo is originally focused on the Asian market, the game is immensely popular in both live dealer and land based casinos across the continent. Nonetheless, Evolution isn't afraid to break new ground and even give a classic table game a completely new twist. They already managed to breathe new life into the popular Money Wheel game with Live Dream Catcher and the Swedes also gave traditional table games like Roulette a completely different twist by launching Lightning Roulette. With Super Sic Bo they've made it their mission to engage a global audience with a traditionally Asian oriented game. In this Super Sic Bo review you'll discover why we believe it's been yet another smart move by category: Evolution. Unlike the normal Sic Bo game, Evolution's Super Sic Bo did in fact manage to lure players from both Europe and North America and the added multipliers explain why.
Where to play it
Vernon's mission is to give Canadian players the best casino experience and an important part of this are the live dealer casinos. All of the live dealer casino websites we highlight on our platform give you a safe and secure platform and offer the best bonuses. Pick yours:
The rules
The basic structure of the traditional Sic Bo game has remained the same in Super Sic Bo. This is why the basic idea is very straightforward: three dice are thrown and players can bet on different outcomes. You can bet on an even or odd number, on a triple (3 of the same dice) and on the total number of pips. An electronically controlled dice shaker will throw the dice, meaning the game works with a Random Number Generator (RNG) first.
An extra touch to standard Sic Bo
Super Sic Bo is different from regular Sic Bo as you'll find some extra multipliers in this game, which are randomly assigned to a number of bets. The more difficult the bet is to predict, the higher the maximum multiplier. This multiplier can go up to a whopping 1,000x, which definitely makes it a whole lot more interesting than the standard game that has never succeeded to conquer European and North American players. As you can start playing Super Sic Bo from as low as $0,20 you can bet on multiple outcomes simultaneously with relatively low stakes. This will increase your chances of winning a multiplier. Do note that multipliers never apply to single bets such as big/small or even/odd.
How to win
There is a wide range of betting options available in Super Sic Bo, which vary in terms of risks and payouts. The easiest bets to make in Super Sic Bo are the previously mentioned even/odd and big/small bets. These bets pay 1:1. If you want to take some more risk, you can bet on doubles, triples, any triples, the total number of pips or a combination of dice. These are the bets that can be boosted by a mystery multiplier. A general rule of thumb is that the less probable a certain outcome, the higher the maximum multiplier. The most difficult bet in Super Sic Bo is a triple (e.g. 3 sixes) as you'll only win if three sixes are rolled. If the three sixes appear, it does give you a maximum payout of 1,000x the bet.
Big risks mean big wins
Single bets have the lowest house edge, so from a strategic point of view, you should limit your bets to the small/big, even/odd and single bets in general. The main drive for many Canadian players, however, is of course to win a multiplier which consequently requires a different strategy. Thanks to the huge multipliers in the game, players can win very high amounts by combining different small bets. A good strategy might be to bet a bit more on 1 or 2 singles and use lower stakes for a number of high-risk bets. Chances are that you'll regularly have a winning bet on the single bets that makes up for the losses on the small bets you make to chase multipliers. But when you do hit a multiplier it'll give you a huge win. Furthermore, don't forget to always:
Claim your live casino bonus: Super Sic Bo works with a lot of betting options and isn't as popular among Canadian players as other live dealer games. Most players will therefore need some practice to get familiar with the Sic Bo-rules. One way to do so without risking too much of your own money is by claiming a welcome bonus. Depending on the type of casino bonus, this will give you the opportunity to make a bet with bonus cash. The live dealer bonuses we recommend are valid for different live casino games and are meant for players who are based in Canada.
Sign up at one of our top casinos: the same is true for the casinos we recommend. Vernon is focussed on the Canadian gambling market meaning that the casinos we list on our website are Canada oriented and therefore accessible for anybody who is overage and interested in gambling online. All of the casinos we feature on our website hold a licence and offer a live dealer casino. This will make sure you'll have an awesome experience, even if you're after other games than Super Sic Bo. You do want a casino that offers more than just Super Sic Bo.
How to play
To point you even more in the right direction, we've also put together some handy information that will help you have a clearer picture of Super Sic Bo as this is a fairly new game for most Canadian players. Luckily, most players manage to understand the rules quickly as they're very straightforward. Please remember that:
Super Sic Bo is a simple game: the goal is to guess the amount of pips which is rather self-explanatory as everybody will know how a good old dice game works.
The game offers great multipliers: the maximum multiplier goes up to 1000x.
Regular payouts: (without multipliers) are also very high: between 150x and 999x.
Optimised for mobile usage: if you're playing this game on your mobile phone make sure to hold it horizontally. This will give you the ultimate gaming experience.
All eyes on the dice shaker
The focus in the Super Sic Bo studio is entirely on the dice shaker with which the dice are thrown. This adds a thrilling touch to the game as throwing a dice normally isn't half as spectacular as the way it's done in Super Sic Bo. A few seconds before the dice shaker stops moving, the bets are closed and the real fun can begin. First, the Random Number Generator technology is used to get to the multipliers. These multipliers reach up to 10x, 25x, 50x and sometimes even 1000x if you manage to get the most out of the bet.
Make room for the multipliers
The multiplier appears a few seconds before the number of pips is visible which increases the excitement among the players and adds a totally other dimension to the classic Sic Bo game. As a player all you'll basically need to do is predict the total number of the three dice, but you can also add some more fun to it by making a bet on one of the other betting options. Just to give you an idea: you can also predict whether the group of numbers you've made your bet on is between 4 and 10 (small) or between 11 and 17 (big).
The features
The Super Sic Bo game is a live casino variant of the traditional Sic Bo by Evolution which explains why it's slightly different (that is: more spectacular) than the game most Asian players will be familiar with. Evolution's extra twist can be found in the mystery multipliers that can fall on certain types of bets. These mystery multipliers can go up to 1,000x the total bet. In terms of Evolution adding its own twist to a classic game, it is very similar to what the Swedes did with Lightning Roulette, a game that shook up live roulette. Super Sic Bo does conserve the game's oriental character and is streamed in an Asian themed studio. This authentic live casino game is made even more fun by adding professional, but highly entertaining game hosts who are more than glad to welcome you once you join the table and explain to you how to place your bets. Finally, the game is completed by a live chat feature. This option is very useful for seeing what bets other players make. The game comes with a nice set of road maps that display previous game results. Although this definitely looks cool, our advice is to ignore it as this is a fully random game of chance.
RTP
The house edge of Super Sic Bo is between 2,78% and 4.98% and the exact value depends on the type of bet you make. The bets with the lowest house edge and thus the highest RTP are single, big/small and odd/even bets. These single bets all have a house edge of 2,78% and a payout percentage of 97,22% which we find a very reasonable percentage. In fact, this RTP is similar to a game like Roulette, and is therefore perfectly acceptable — even for the table game minded. Do note that the, let's say "exotic" bets, pay out up to 95,02% which is significantly lower than the previously mentioned bets. Although this RTP is lower than with the single bets, it is still a lot higher than the standard Sic Bo that works with payout percentages of only 83,8%. Evolution never fails to impress.
| | |
| --- | --- |
| Bet | Payout |
| Small/Big | 1x |
| Odd/Even | 1x |
| Total 4 or 17 | 50-499x |
| Total 5 or 16 | 20-249x |
| Total 6 or 15 | 15-87x |
| Total 7 or 14 | 12-29x |
| Total 8 or 13 | 8-24x |
| Total 9 or 12 | 6-49x |
| Total 10 or 11 | 6-24x |
| Single Bet | 1x |
| Double (single) | 2-19x |
| Triple (single) | 3-87x |
| Double | 8-87x |
| Triple (specific numbers) | 150-999x |
| Random Triple | 30-87x |
| Combination | 5-24x |