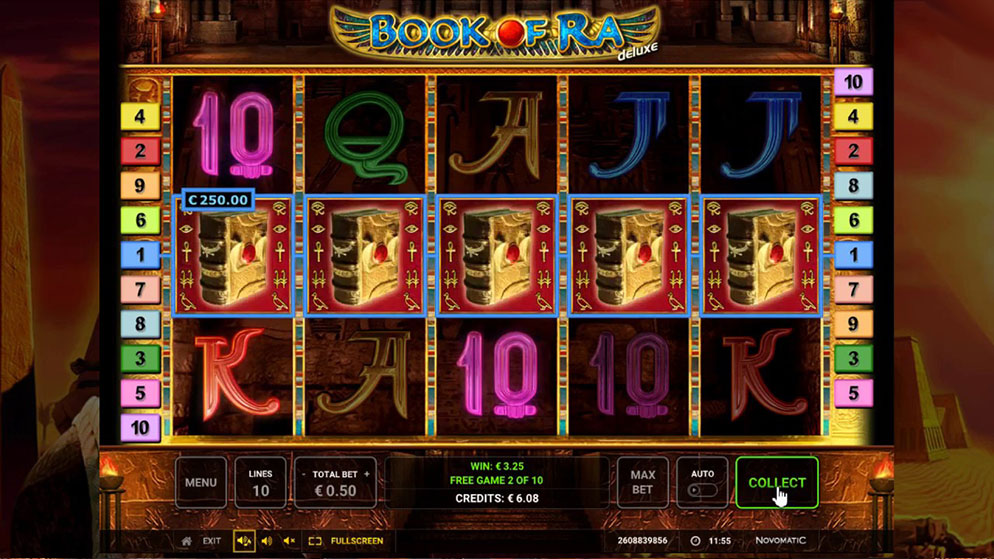 Play Book of Ra
About Book of Ra slot
Book of Ra is one of the classic slot games that made it to Vernon's catalog and we're happy they're part of it although this isn't thanks to their RTP. Before we dive deeper into one of the poorest RTP games you'll find on our website we'll try to explain why Book of Ra is highlighted on our site.
Let's not forget that his game was brought out in 2004 and is considered the very first game with a "Book Of"-theme. As we believe a game of this stature can't miss on our platform we invite you to read more about this slot as it's still one of the most popular games ever made.
Overall, it gives players a gaming experience that was unknown before this title was launched. After Book of Ra hit the market, other slot developers launched their own spin-offs such as Book of Dead, Book of Gods, Book of Fortune, and Book of Oz. Book of Ra is mostly enjoyed because of its wild symbols, scatters and other features. It still attracts the attention of millions of players worldwide.
RTP, Volatility, and Other Details
As we pointed out above, Book of Ra's Return Percentage (RTP) sucks and it sucks big time to be fully frank with you. The 92.13% RTP is significantly lower than the 96% minimum RTP we use as a minimum percentage which is why we weren't sure to include it on our website. From a historical importance point of view we did decide to go ahead as it serves as a reference point for other Book of-games. Ironically, Book of Ra doesn't have any extraordinary features other than free spins.
We know what you're thinking: no features, the RTP stinks, so why is it listed in the first place? In some way this game by Scientific Games/WMS did manage to become one of iGaming's all-time classics — that's why. Book of Ra is a very easy game to play and it won't take most players long to master the rules. The icons, symbols, and everything that looks visually interesting, is actually different from other casino games — at least it was at the time it was released.
It is one of the games that was launched at the right moment and initiated a large list of spinoffs and it is still widely considered a source of inspiration for other game developers. This is why we're more than happy to feature this game on our website as it is still very popular among both Canadian players and casinos. The 92,13% RTP is very low, especially as it was launched in 2004 when Playtech dropped a lot of games with a +97% and +98% RTP. Many Book of Ra copies do offer higher RTP which is why it's still interesting to give this game a try and compare it with spin-offs by providers like Play'n Go and NetEnt.
Book of Ra features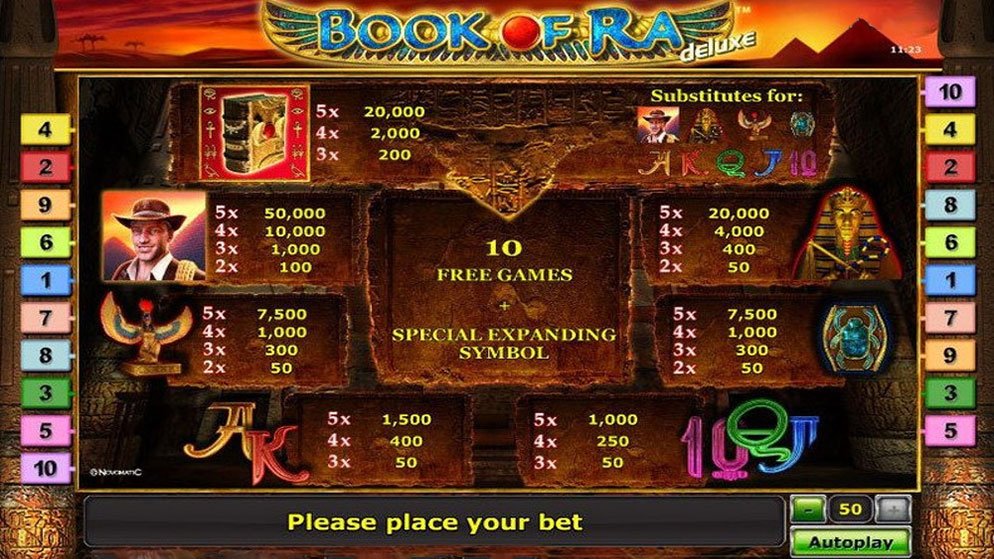 Over the years, the Book of Ra slot has managed to become one of the world's most popular slot games and the unique bonus feature in the game is largely responsible for that. If you manafe to trigger it, you're about to enter a world that's fully packed with prizes.
Book of Ra free spins
The fun starts in Book of Ra when 3 scatters hit your screen as you'll receive 10 Free Spins that might just give you access to great prizes if you turn out to be lucky. Add that to the fact that this Expanding Symbol in Book of Ra can land basically anywhere on a payline to make a win, and most players will instantly understand how insanely interesting this feature actually is.
The most interesting part of this is of course if the chosen symbol happens to be a premium symbol. Do note that it could just as well happen that you don't win anything at all with this Book of Ra feature, which has to do with the high variance of this game.
Gamble feature
Then, there is also a Gamble feature. With every winning spin, the corresponding button to make use of the Gamble Feature becomes available. If you click on it, you have the option to multiply your prize either times 2 or even times 4.
All you have to do is actually quite easy in theory: make sure to correctly guess the color or the suit of the cards shown on your screen. This gives players a 50% chance of winning, but also a 50% chance of losing the stake. We recommend you to be careful with this Gamble Feature and try to secure a win every now and then. This, clearly, depends on your own preferences and bankroll.
Conclusion
All in all, despite its numerous flaws, the Book of Ra mechanism is actually interesting and very entertaining not only for more experienced players, but also for beginners who are still trying to gain some experience with what we call the "Book Of-games". In addition, nothing should stop players from taking their chances on either Book of Ra or one of the many clones available. What makes Book of Ra a very interesting option is that it's really easy to understand.
With a standard grid and only one bonus game, there is very little that can be done wrongly. At the same time, it really never gets boring, because every spin in the game can activate the Free Spins, increasing your chances of winning significantly. Unfortunately, the game's low RTP also implies that a lot of players won't feel comfortable trying their chances on this game. This also explains why many players have happily hopped along spin-offs like Book of Dead, which comes with a RTP of 96.21% — an RTP difference of 4.08%, which is major, especially for those planning to make a lot of spins. Book of Ra's fun, but its spin-offs might just turn out to be not so bad after all.